COVID-19 (also called the coronavirus) is changing the way we all do things for the next few months, with social distancing and non-essential shut-downs our new normal. To help you move with the times, stay connected and keep entertained, the Digital Ready for Daily Life program has put together info, tips, tricks, hacks and how-to's for all things digital in your daily life.
While social distancing remains the key advice from Government for people to help stop the spread of COVID-19, retailers and other service providers are looking for new ways of getting their products into the hands of the people that need them. One of these ways is called 'click and collect'. Click and collect is where you use a credit card or Paypal account to purchase and pay for goods online, and can then go to that business and collect them at a time that suits you.
Most businesses offering click and collect have clearly marked areas where you come to get your goods. While this used to be in the store or as a drive through, it is now more likely to be where you can have a contactless pickup without being close to other people. Click and collect is perfect for supporting your local businesses, especially restaurants and cafes and retail that have been so hard hit by the closures of so many venues.
Larger stores like Officeworks, Harvey Norman and Dan Murphy's have been operating click and collect services for a while, and you have the option to select click and collect when you are checking out. These services are free, which gives you both convenience and saves you money. Here is how Officeworks displays their click and collect online.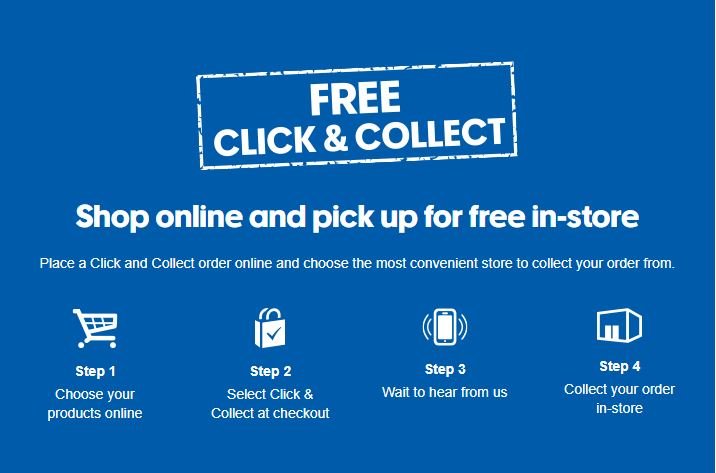 Many smaller businesses that are moving to a pick-up model are advising customers what is available using Facebook or their websites, so check there first to see how they are getting their goods to their customers. (Not using Facebook yet? Here's our Daily Life guide on how to join and why!)
If you are looking to find food vendors that are offering take-out, pick up and delivery check out the following:
For the south of Tasmania Hello Tasmania has put together a list
In the north Heads Up Launceston has a list on their website
On the North West Tasmania Takeaway, Delivery, Park and Collect Facebook page you can find a readily available list to view and continue supporting local businesses.
Businesses that rely on face to face service have been hard hit by the geographic distancing measures, your support for them is essential to help keep staff employed and cash coming through their door, so where possible shop local and often.