What is LinkedIn?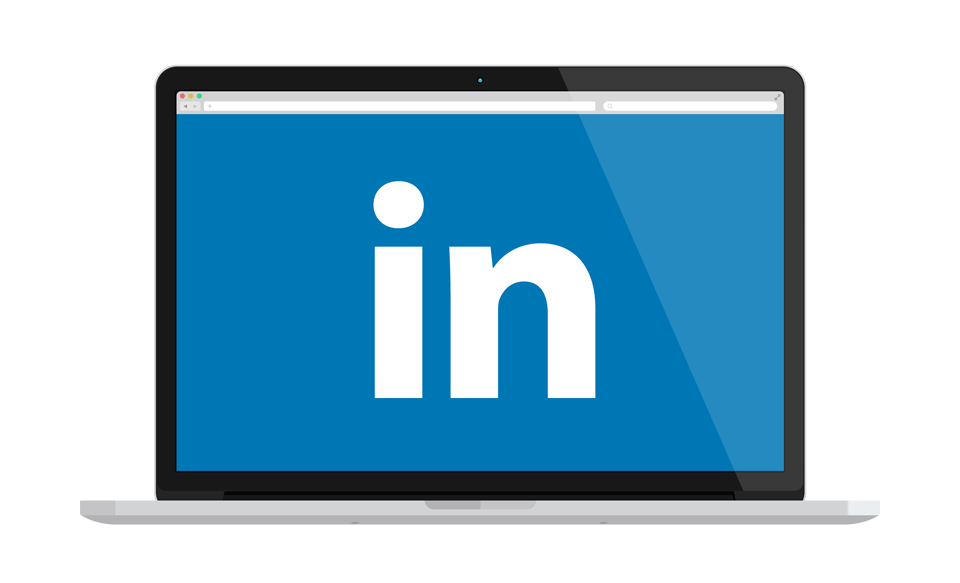 LinkedIn is a social media platform and the world's largest professional network with over 340 million members worldwide. Its stated mission is 'to connect the world's professionals to make them more productive and successful'. Its members are from over 200 countries and territories, and six million Australians are among them; of these six million, about 3.3 million are active monthly. Some people develop substantial networks: nine hundred is about average for a CEO, and many people have networks of 400–500.
As a professional network, its culture is notably different from Facebook. Although, as we will discuss further below, it may benefit your business to 'post' articles and updates to LinkedIn, this is not the platform for cat, dog or family images. Rather, members use it to post and discuss professional articles on topics of industry interest. 
Benefits of using LinkedIn
This platform can be very useful in certain ways, as it enables you to:
Create and control a profile that is easy to discover on Google

Be discovered by 'what you do' as well as by name – and search for others by industry or profession too

Build and maintain an online professional network

Promote your business and expertise

Advertise

You can generally do most things you need to on LinkedIn with a free 'Basic' account.
How to use LinkedIn effectively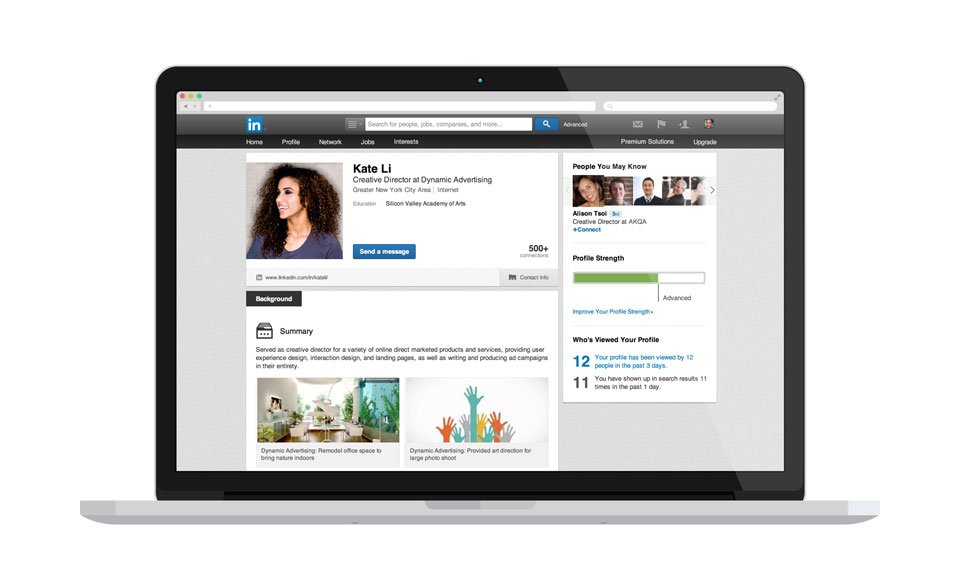 Sign up
Choose the exact name you want to be known by when you sign up for the first time, as this cannot be changed later.
Create a really good profile
It's worth setting aside the time to complete your profile as fully as possible. You need chronological details of your work, education, awards, volunteering etc. If it has been a while, you might need to dig some of these facts out of the vaults! One of the reasons LinkedIn is so dynamic for raising SEO for you, your business and your website is that due to the nature of what you have to disclose on LinkedIn about your past work and education details, the Google algorithm ranks the authenticity of that information very highly, especially as third parties independently verify you with endorsements. When your LinkedIn page is linked to your website and backlinks are created, this confers that authenticity to your website and its rankings. People search by role, but also by alumni, causes, previous firms and your interests, so by having all of those sections fully fleshed out, you have more chance of being found and connected with.
Notify your network
Before you start, and it's useful to remember this down the track, note that when you have a LinkedIn profile and are editing it, there is a box on the right hand column of your screen that gives you the option to 'Notify your network'. You can turn this off (before you edit) when you are making minor profile changes, and turn it on if you have an update to your profile you would like to make public (for example, you are elected to the board of a community organisation).
Cover graphic
In recent times, LinkedIn has introduced a space for a responsive cover graphic, like on Facebook. (Responsive means it should automatically resize to look OK when viewed from any device.) The cover image size is 1400 x 425 pixels and a maximum file size of 4 MB. You can make it for free in Canva, download it to your computer and from there upload it to LinkedIn. If you need images to populate your cover, head to Dollar Photo Club. 
Think about colours and fonts when you are creating your cover; this way you will stay 'on brand' with your business. It is worthwhile creating a suite of branded banner or cover images and headshots to use for your profile for all of your social media channels. Consistency and recognition for your customers and users reinforces your brand identity and quickly identifies you and your business. 
Use an engaging personal photo
A profile on LinkedIn with a photograph is apparently 11 times more likely to be viewed and, on viewing it, people take just three seconds to decide whether they think you can help them. Given this, it's probably best to resist putting up a 'selfie' and preferable to use a professional image. People use a head and shoulders shot on LinkedIn, as opposed to Facebook where informal images – or ones that actually conceal identity – are common. 
Bear in mind that every time you post to LinkedIn or like other people's posts, your photo will be visible next to your name and post; it therefore becomes an element of your personal brand. As per having consistency across your profile photo for all of your channels, this is where the investment in some good headshots is really worth it to show you at your best. When you come across the 'deer in the headlights' face of a person who has shot their profile photo using their computer's web conferencing still camera, you will see the difference in engagement. A good head and shoulders or a tighter face shot to camera lets people see you, they feel they know you and can relate to your and your brand better.
Nail the headline
The 'headline' is the text immediately below your name, and LinkedIn's algorithm scans this area to match your search term. Therefore, it is important to write this headline carefully. Try to say something about your job and your business; e.g. 'Director of XYZ Company' may not be useful if you don't mention you are, say, a graphic designer. Put your most important search term in this area to optimise your visibility.
Sell yourself in your summary
Write your summary as an "elevator pitch", and do it in the first person. Imagine you are at a networking event and have an opportunity to tell someone what you do, what your business is all about and why you are passionate about it. The key here is to use the three bears principle: don't oversell as people who know you will call you out, don't undersell as you will miss opportunities, make your summary as compelling and authentic as you can. Get someone else who knows you and your skills and history to read it and give feedback if you're unsure, often others are much better at talking you up than you will be. 
Write plain English in the experience section
In the section where you can fill in your past positions, Linked again uses an algorithm to scan each heading for keywords. Rather than saying owner, manager or founder in these position headings, include descriptive job titles such as 'Mechanic', or 'Owner and Mechanic'. Then use the first line of text to expand on this, such as to explain you founded the business.
Add a video
LinkedIn now allows users to add video links to their profile summaries. Video can do a good job of building trust and conveying non-verbal messages, which represent about 85% of all communication. Add a video here if you can.
List your voluntary work
Showing your connection to charities through volunteer positions is useful: it reveals more about you and your passions, why others should work with you and what your business stands for. It can also help open up conversations with potential clients and customers. It also speaks to your values and philanthropic nature, which is important for your brand. You volunteer work also shows a broader range of application of your skills than might be able to be demonstrated in a specific role, which assists if you are looking to step change in your business or job and need to show how you can do so.
Skills
LinkedIn members who list skills are 13 times more likely to be viewed, so be sure to list some. You will soon find your contacts are endorsing them – and you can do the same for others you know well. At times you may see that one of your connections has endorsed you for a skill that you hadn't listed; LinkedIn has added this skill as a suggestion from its 'knowledge' of you, and you get the option to add or omit that skill from your list. Be expansive on what you can demonstrate, remember the fuller the profile, the better the ranking.
Contact info
If you want to be contacted, make sure your email address and/or phone number is listed. 
Editing
Ask someone you trust to give you some feedback on what you've written. They may encourage you to sell yourself more (or less!) in your Summary, or find typing errors you would rather not have spotted by your potential clients and customers.
Account and settings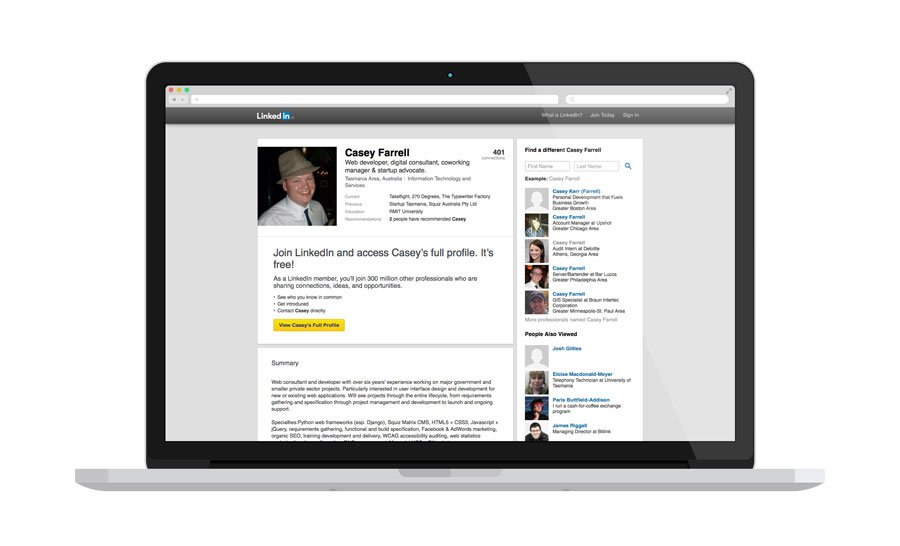 Once you have published your profile, click on your photo at the right-hand end of the menu bar to access your account and settings. This is counter-intuitive for some people.
Build a network
You may approach the LinkedIn network differently from, say, Facebook; it's quite common to connect with people even if you don't know them very well. Start by searching for people you know and send them a request to connect. If you can, replace the standard LinkedIn text with a friendly remark. 
Connecting with someone on LinkedIn can be a useful way of staying in touch with them; for example, if you meet someone at a business networking event, you may not necessarily want to email them afterwards, but perhaps you would like to send them a friendly 'request to connect' message through LinkedIn.
To connect you will be asked to nominate how you know that person and given a drop down menu with options of roles you have worked in. If you don't know them through work, it is acceptable to put 'friend' as the option - the recipient will decide ultimately to respond or not. On a basic account you will be able to see who has been looking at your profile, this can give you an indication of who finds you interesting, or how you are coming up in searches. It also allows you to reach out to the people viewing you profile and ask them to connect. On the right hand side of your profile it will show other people who are similar to you, again, you may choose to connect with some of these people.
The general rule of thumb on LinkedIn is to connect with people that build your network, build your community, share your brand values, and in many cases have a degree of aspirational association - they may be where you want to in roles to come. LinkedIn is built for this purpose, but that doesn't mean it is a purely self serving tool. Like all social media it is a reciprocal community. Say yes to connections where there is no reason not to (ie they aren't spammers or scammers) as you don't know when they could assist you - or you them. Part of the joy of networking on this massively connected global scale is that the degrees of separation are very small and your dream opportunity or business collaboration may come from left field, or another continent.
Join interest groups
Another way to build connections and gain visibility is to join interest groups; some are open and some closed, for which you will require approval to join. Hover your mouse over 'Interests' in the top menu bar to reveal 'Groups', and generate suggestions by searching via the 'Find a group' button. Alternatively, view the profiles of other people you know in your industry to see what groups they belong to (these are often visible at the foot of personal profiles).
The groups tab shows the news feed from all your groups in one place. The settings button (top right) is helpful because here you can control the number and type of notification emails you receive from each group; unchecked, these can soon mount up in your inbox. Make sure when you join a group that you acquaint yourself with the group rules. If a group doesn't exist that you want to join - create it yourself, and see who you can find in your sector to participate.
Posting to LinkedIn
There are several ways to do this.
Liking, commenting on, and sharing other people's posts
In your news feed, you will see articles and discussions from your connections. You can become better known by liking, commenting on or sharing these posts. As with Facebook, if you like or comment on a LinkedIn post, you'll continue to receive updates to your own LinkedIn account when other people comment on that post. When you share a post, you get the opportunity to add your own comment, perhaps explaining the post's relevance to you or your connections, or your skills and experiences. Beginning conversations is a great way to build relationships.
Post your own updates
In the 'Home' tab, 'Share an update'. Here you can write a short amount of text, and either upload an image or link to an article of interest. (Do this by copying the URL in.) Perhaps you have written a blog on your own website; it will help your Google rankings if you also share your blog on LinkedIn. As they say nowadays, 'Content is king' – meaning, keep sharing informative content. Then keep an eye on what happens to your post, and thank or reply to other people's comments on it. (Don't be disappointed if there are none or only a few; these things can take time to build.) 
You can also share content (or start discussions) in the same way in your various groups. If you want to be very visible in your connections' newsfeeds, keep busily posting and commenting in each group, as this will come through on the main newsfeed as well as the individual group feeds.
Publish a long-form post
The 'Publish a Post' tab gives you an option for a long form update with a header and a photo. This starts to build your profile as an opinion leader, and can gain a surprising amount of views and comments as well as showing up in Google searches. 
The very best LinkedIn posts are great stories on their intended topics that spur dialogue, create new relationships, and in some cases produce a solid interest in a sale that is generated directly from within the LinkedIn platform. Remember that in most cases you are starting with a business reader who has at least some direct or indirect connection to you and some interest in your topic before they even begin.  

Once again, use Canva or similar to make your cover image, remembering that your personal photo will show up centred at the foot of this cover (so avoid having any image text there).
Keep an eye on how your posts are faring via the 'Your recent activity' link (in the 'Home' tab, next to your name); you may receive comments to respond to.
Advertising
It's possible to pay for targeting advertising through LinkedIn. For more about this topic, see the Social Media Advertising fact sheet.