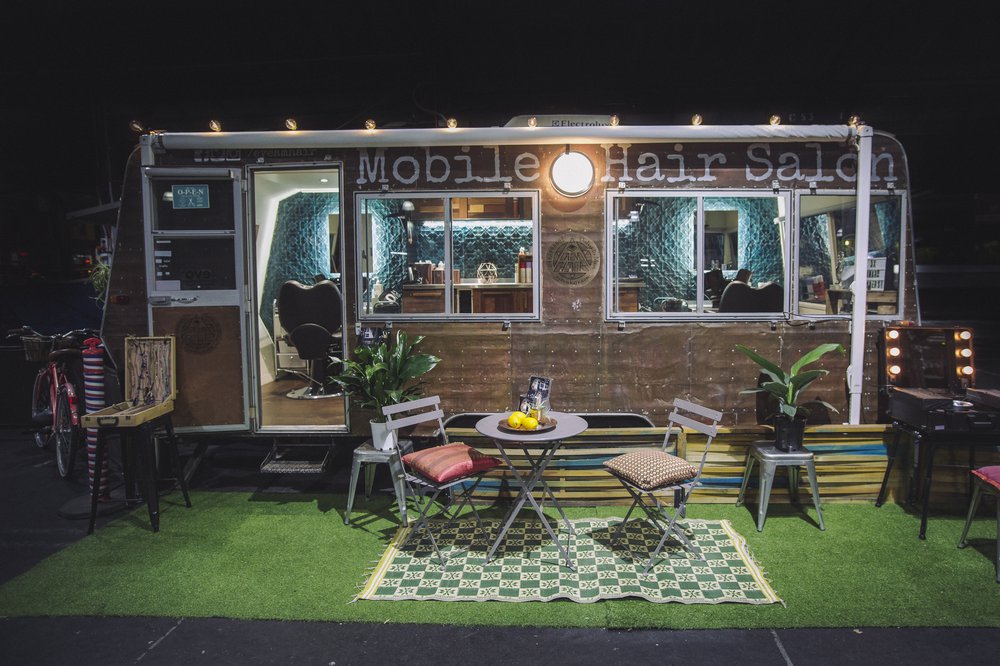 Eye Am Hair
Disruption in a traditional and established sector like hairdressing can be difficult to achieve, but for innovative hair stylist and entrepreneur Chelsea De Main, the opportunities offered by Tasmania's booming visitor economy were the perfect environment to create a boutique luxury mobile salon experience catering to visitors and savvy locals alike.
Describe your business and your key products/services
Eye Am Hair is a boutique and unique hairdressing salon that operates from within a copper-clad luxurious caravan space. Currently the business structure is a one man show with future plans to open the doors as a co-working space to other freelancers in the hairdressing industry, we mostly provide haircuts, hairstyles and hair colours to guests and we stock ammonia-free hair colours, vegan and cruelty-free hair products.
Who are your customers, where do they typically come from, what is the split of locals to visitors, both intrastate and out of state?
My customer base is 50% women from Hobart, 25% local men, 20% interstate women and 5% are interstate men.
The interstate population mostly come from Melbourne or Sydney and the local population live within a 15km radius of Red Square.
Typically, how do they find out about your business?
Local women are great networkers and I find word of mouth has helped a lot, as people like to recommend their friends if they discover something unique and want them to experience it too.
Our local male clientele find us from visiting Red Square and some are cyclists that stop for coffee at Mcvilly's cycle café or Hobart Brewing Co. for a beer.
We also have an emailing list at every music festival we attend. People sign up and we contact them via MailChimp on our latest news, events and promotions.
Visitors find us through Google, Instagram or nearby hotels where they are staying.
What do you notice about the consumer behaviour of customers who are visiting your region and how they engage with your brand/product/services?
Customers who visit the region engage with our brand by firstly entering Google search engine key words like 'haircut near me', 'best hair salon' and 'eco hair salon'. Then they read the Google reviews, check out our Instagram, Facebook or website and make an online booking through our system.
Visitors are after hairstyling or haircutting appointments and are less interested in hair colouring as they do this in their hometown. A lot of the time they are attending weddings or events and either make last minute appointments or book when they know they are coming to Hobart.
What do you do to connect with your customers online and offline and how have you developed that strategy?
Offline, I have pounded the pavement and introduced myself to all the apartments and hotels within close proximity of Red Square. I have provided them with business cards and offer a discount of 5% to staff and business owners within the area.
Online, I connect with them by # tagging the hotel's name or checking in at our neighbours of Hobart Brewing Co. or using festivals like Dark Mofo's # tag.
I also create events when I am attending festivals and do video promotion to raise awareness of our presence and gain online bookings through a link on the event page. I share the event with the festival and gain traction this way.
What is your advice to other Tasmanian businesses looking to grow their visitor economy revenue?
Initially I thought I didn't need to target visitors to the area in my business. However as I'm a new business in Hobart and still building my local clientele, I have realised the services visitors want such as blowdry's, haircuts and hairstyling, fill the appointment gaps perfectly.
I think businesses will benefit if they are prepared for the behaviour of tourist's consumer style. This might mean having a pre booking service available online and also creating room for last minute appointments by hiring casual staff during big events or festivals that are being held in Hobart.
Networking with neighbouring businesses by providing business cards and flyers is old school but still provides value by putting a face to a name.