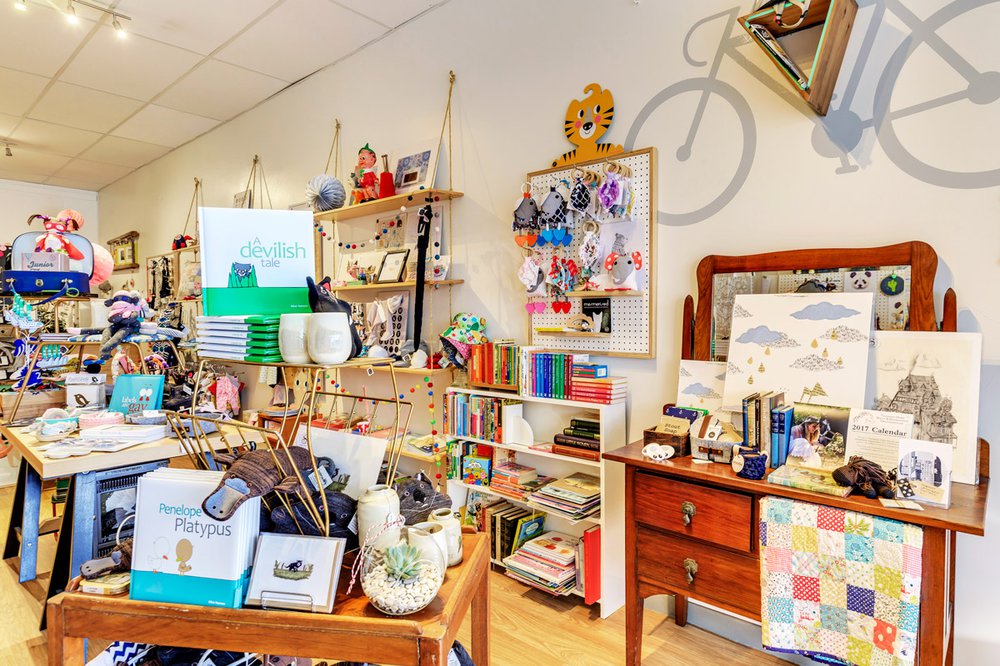 Lily & Dot
For specialist local gift retailer and crafting mecca Lily & Dot, building an engaging visitor experience started with some blue sky thinking and a clever idea to create a precinct in the midtown of Hobart. By developing an integrated approach to marketing, businesses in that area were able to develop their own unique brand, attracting customers and creating community while growing their individual sales and reputation.
Describe your business and your key products/services
We are an eclectic online and bricks-and-mortar store specialising in locally made gifts for little ones – and cute, whimsical treasures for all ages.
From hand-knitted baby blankets, clothes and softies to candles, jewellery and art prints by Tasmanian illustrators, we offer an in-store experience that celebrates traditional craft practices in a contemporary and on-trend environment.
Lily & Dot's highly successful crochet class program 'Social Stitching' is born of the 'slow' movement and our brand harnesses those of the Tasmanian brand – small-scale, handcrafted and premium quality. The program has built a community of both shop customers and class-only students (who can be local or visitors to Tasmania) that donates blankets to local not-for-profits.
Who are your customers, where do they typically come from, what is the split of locals to visitors, both intrastate and out of state?
Anecdotally, our split is 50/50 local/out-of-state.
Our typical local customer is a 25-to-40 years-of-age, female, who uses Instagram daily. We even have a name for our typical customer; Ruby.
Ruby lives in West Hobart (close by), where she has created a beautiful nest for her young family with objects from local makers and some from her travels. She is a committed recycler (she loved the ABCTV War on Waste series), shops at her local farmers market and is a big supporter of independently owned stores such as Lily & Dot when she is buying gifts for her children, family & friends (and will often add a pair of earrings or a candle for herself). She subscribes to Frankie magazine, listens to ABC Radio and is a member of a book club.
Our typical visitor to Tasmania is 35-to-50, often on her second visit to the state, travelling with a partner who also likes discovering 'off-Broadway' locations like Midtown for shops, cafes and small bars. We call her Olive. Olive stays in Airbnbs or boutique hotels (but not hotel chains), and visits MONA, the Hobart Farmgate Market and some wineries or other agri-tourism attractions during her stay. She appreciates high-quality, locally made wares, and buys gifts to take home to family/friends in inner-city Melbourne, such as books, soap and greeting cards. We will often recommend cafes and dinner options to Olive and her partner while they are in-store.
Typically, how do they find out about your business?
Instagram
TripAdvisor
Google
Word-of-mouth (accommodation host or local café)
What do you notice about the consumer behaviour of customers who are visiting your region and how they engage with your brand/product/services?
Visitors to our midtown shopping and dining precinct are looking for an authentic local experience. They aren't here for the High Street shopping malls, where the chain stores are the same as at home. They want locally created products, artisan wares and food/beverages experiences that are off the beaten track and often discovered via word-of-mouth referrals from their accommodation provider or via social media research pre-visit.
They engage with our products and services that provide a sensory and/or emotional connection – soaps made with local olive oil and honey, lavender-filled heat packs, hand-knitted Tasmanian devil softies.
Our 'Social Stitching' program introduces a new cohort of customers to our physical store. They may be local residents or visitors to Tasmania, but are all after an experience – namely, learning to crochet at a 'crafternoon tea' with treats from the nearby CWA Shop.
What do you do to connect with your customers online and offline and how have you developed that strategy?
We use a broad suite of digital marketing platforms ­– not limited to social media – to connect with customers who shop with us, either in-store or online (or both).
Increasingly we have developed a strategy to reach visitors to Tasmania who are seeking an in-store experience that aligns with their values and those of the Tasmanian brand. In addition to standard social media platforms, we use TripAdvisor and in-app store recommendations by Airbnb hosts to help reach visitors. Supporting this are traditional channels such as brochures, signage and relationship management with local businesses, accommodation providers, media and other influencers.
A regularly updated Google My Business page supports our SEO and strategic posts on social media platforms direct traffic to our online store, where conversions are key to business performance.
What is your advice to other Tasmanian businesses looking to grow their visitor economy revenue?
Check your Google map location! Don't assume the basics are correct – ours wasn't.
Think like a visitor!
Where do you shop when you travel?
How do you find them and/or hear about them?
What do you buy?
How much do you spend?
How do you pay for your purchases?
How will you transport them home – do they need packaging – perhaps they can be sent on by the business (or delivered to your accommodation).
Will you review and reward great service and/or products? Where?
Will you return again – do you take a business card with you? Will you shop online after you return home?
What made your service experience stand out and what story will you take home with you?
We share who made the product, how and where if known – to make the in-store experience memorable, authentic and easily relayed to potential future customers upon a visitor's return home.
We ensure an in-store customer knows we have an online store so we can maintain our new customer relationships.
We may even seal their bags with a 'review me on TripAdvisor' sticker. Cheeky? Maybe. Effective? Definitely!