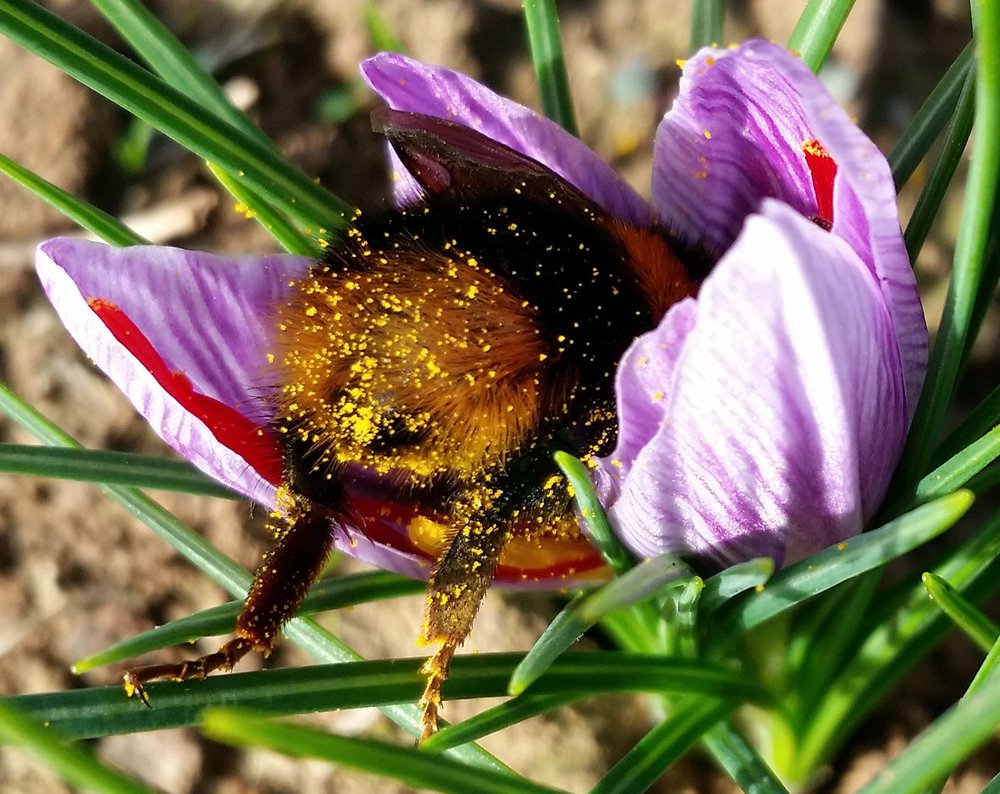 Campo De Flori
As if the exotic attraction of fields of saffron weren't enough to draw curious visitors to the picturesque Huon Valley, Campo De Flori has bundled the sensory pleasures of rare spice, fragrant lavender, local garlic and olives with beautiful pottery and ceramics. Add in a strong ethos of sustainability on this four seasons farm, and you have created a magnet for day trippers looking to experience all of Tasmania's brand jewels in one spot.
Describe your business and your key products/services
We are a small boutique farm and ceramic artistry in the Huon Valley. Campo De Flori is a 52-acre sustainable boutique farm - high in the mountains of the Huon Valley. This farm was carved out of the bush in 2010 by David Peck and Lisa Britzman.
We are commercial growers of saffron, culinary lavender, aromatherapy lavender, olives for extra virgin olive oil and Tasmanian purple garlic.
We offer farm tours on weekends and other times by appointment. Crops were selected and planted to have produce in the different seasons on the farm. Lavender and garlic are harvested in the summer, saffron in autumn, and olives in late autumn to winter.
The ethos of Campo De Flori is to be self-sufficient while maintaining a balanced ecosystem on the property. Sustainable use of resources is considered as well as implementing biological farming techniques on the farm. This form of sustainable farming practice not only benefits the environment but delivers top quality farm produce.
Lisa maintains a pottery practice on the farm and sells her ceramic art in several galleries in Hobart, the local visitor centres and online.
The lavender is used in products created on the farm and sold through the Salamanca Market, the Huon Visitor Centre, and galleries in Hobart. Other farm products can be found at their open farm gate and studio days throughout the year.
Who are your customers, where do they typically come from, what is the split of locals to visitors, both intrastate and out of state?
Where do they typically come from:
Visitors to the farm are typically locals who have visitors from interstate with them.
Locals.
Visitors to the retail shops and Salamanca market are from overseas, interstate and local.
Our customers find us at:
Retail shops in Hobart, Launceston, Huonville, Geeveston,
Online customers via our Etsy shop.
Online customers from farm house direct.
Online customers from Tasmanian Gourmet Online.
Farmgate customers who visit our farm gate during the summer and autumn months and participate in our farm tours.
"Off the Table" event brings visitors to the farm.
Typically, how do they find out about your business?
They find out about our business through the local visitor centres, which sell and display our products.
From branded products being sold in Hobart shops.
Brand Tasmania's website.
From various online shops.
Word of mouth.
Local newspaper articles.
Local ABC radio.
Sprout producer program 'fork to fork'.
By meeting us at local markets in Hobart or Huon Valley.
What do you notice about the consumer behaviour of customers who are visiting your region and how they engage with your brand/product/services?
When customers visit us at a local market or the farmgate they are very interested in meeting the grower and or maker of the products we make and sell, they love to see the views from our property and see that it is us growing and making in this beautiful place called the Huon Valley and Tasmania.
They like to see that we are ethically growing our products and caring for our pristine environment. They are very curious what we are growing and how.
I'm not sure how they are engaging with our brand at the various outlets other than purchases are made, but many times after visiting the visitor centre they will drive out to see us and make even further purchases from our farm gate.
Last Christmas Princess Mary bought some of our lavender products from Aspect Design in Hobart. This was reported in the Mercury newspaper and after that we have not been able to keep up with the demand for those little lavender items, branded with Campo De Flori.
What do you do to connect with your customers online and offline and how have you developed that strategy?
Our online strategy is to show a daily snap shot of life at our farm and what we are participating in during the various seasons.
We promote our collaborators and retailers where our products can be found.
Through Digital Ready coaching I have been able to develop a digital strategy where we show a nice mix of farm life, products, how to use our products, and events where we can be found.
We use Facebook events when we have events on the farm and use the paid advertising of Facebook to boost those events.
We attend as many Digital Ready events as we can fit in to stay ahead of the changes in the digital world as social media is our main form of advertising for our business.
Offline we find the best way to connect with our customers is to participate in a few local events/markets per year and having open farm gate events and tours through out the year.
The power of a picture!
A picture we took of a bee during the saffron harvest (one of our daily snapshots of life on the farm) went viral on social media.
Within 24 hours it had been shared thousand of times and to date has been shared on the internet over 6 billion times through google image search engine!
We have had people contact us from all over the world asking to use the bee picture on calendars, webpages, promotions, bee organisations. One person sent me a picture of the bee in tattoo art on their arm. Others have painted the bee into lovely artworks. To us this showed the power of social media and the reach it can have.
This one bee picture boosted our following online and helps gives our farm a wider audience.
We now offer the bee picture in cards and prints in our online shop and when we feel we need a boost on our social media we just repost the bee picture and watch it go!
Through this bee picture being shared online we were contacted by organic gardener magazine to be featured in their best social media shot of the issue. Shortly after the release of this magazine we had people showing up at the farm gate from interstate saying they looked for us because of the magazine article and then social media.
What is your advice to other Tasmanian businesses looking to grow their visitor economy revenue?
Engage with your audience online. Let them know where to find your products and where to find you.
Be polite!
Work with your local visitor centre.
Bring other businesses along on your journey. We have many products that are collaborations with other food producers and artist. This helps with community spirit and helps in promotion of each other's work and business to cross promote each other's products and reach a wider audience.