Doctor D, I was approached by an 'influencer' who follows my Insta feed the other day, offering to promote my new product, she wanted to charge me $1000 per post. Say what? Is that right (or even worth it?)
Doctor Digital Says
Kardashian, we have a problem.
Rand Fishkin, founder of search engine optimisation tool companies Moz and Spark Toro tweeted it succinctly late in 2018: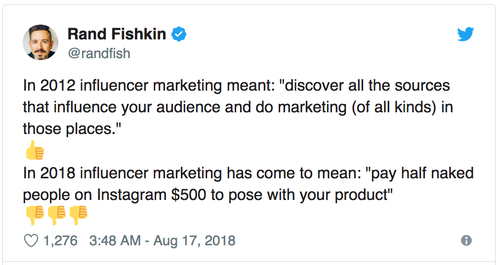 The influencer frenzy hit its zenith with the now infamous Fyre Festival - an elite music festival promoted by Instagram influencers that raked in millions of dollars in pre sales, only to be an epic fail that landed the organiser in jail and the influencers with lawsuits against them. That crash and burn has lead many to be sceptical about influencers, especially as many have been revealed to purchase followers and inflate their influence, or in what's known as 'sponcon' just pretend to have a deal by posing with a product to get other deals. As Dusty Springfield once sang, "How can I be sure…?"
An influencer (100k+ followers) or a micro-influencer is defined as someone with significantly engaged followers on either Instagram, Facebook or Twitter who wield influence over the purchasing habits and opinions of their followers. In the social media landscape, these are individuals that have large followings and are usually but not always associated with a lifestyle niche - fashion, food, hair and makeup, veganism, cars, luxury items etc. Their followers sit up, pay up and take notice when they promote something, and in a digital world where there is so much noise and salesy posts around, influencers have a degree of trust with their people - and this is what you pay for essentially when you use them to be seen enjoying your brand.
The influencer value in the purchasing decision is a shortcut (and often massive boost) to brand trust and visibility. Remember Bobbie the Bear when he was a nobody, just a lavender filled bear on the east coast of Tasmania. All it took was one photo with a Chinese influencer and BOOM, he's got his own Movie and has sold hundreds of thousands of units to people who want to be just like Zhang Xinyu, the model who snuggled with him and shot him to stardom. For Bobbie (and his creators at Bridestowe Lavender Farm) this was very lucky happenstance influencing, a serendipitous moment of authentic brand love that resonated with Zhang's fans. It's that viral moment everyone wants, but few actually get.
Influencing is a massive industry (estimated to be over US $10b in 2020), complete with brokers and scams, sponcon and a monumental lack of regulation. One of Fishkin's concerns, aside from the clear micro fraud issue, is that the influencer market is too narrow, and focussed on Instagram exclusively, rather than aligning influencers across the range of platforms where you brand will have strategic impacts and far greater reach when used in a killer network effect.
His fears are justified. 93% of influencer marketing campaigns now use Instagram. In fact, the use of Instagram Stories in influencer marketing campaigns grew 60% in the last quarter, while the use of Facebook and Twitter declined by 20% and 10%, respectively. Keep in mind that those declines were still in channels with billions of users, and YouTube and emerging platforms like Medium also have immense influence for those who build an audience there. Being forced to use Instagram to influence means you have to be on that platform, rather than use the best platform for your brand.
A major concern in the economy of influencers is how to establish return on investment (ROI) from the posts you are paying for. Usually in digital world we look to conversion or cost of acquisition to work out if the investment is bringing returns. With influencers, because you are using someone else's platform, it is harder to dig deep into the metrics of their reach.
For small business, often the costs of a macro influencer is out of reach. Getting Kendall Jenner to promote your new seasons pink eyes is going to be a stretch. Using a micro influencer is often better bang for buck, especially if you are using a partnerships approach with a few targeted people who have direct alignment with your audience and truckloads of authenticity.
Smaller accounts can often have far greater reach and engagement than massive mega posts which tend to get lost. Micro Influencers have spent time growing an engaged audience. They know who their followers are and what they like. By partnering with them strategically, you'll get to introduce your business to these new faces, in a way that doesn't feel sleazy or salesy.
By working with creative influencers, you're not only gaining more exposure for your business, but you're essentially hiring a content creator. Once they've posted, you can scoop up their content to use on your own feed as well. One of the by-products of using micro influencers as partners, is that you're able to get real social testimonials about your business in an authentic way. Smaller influencers will also often partner for product or service rather than payments, which can benefit both parties.
Influencer marketing as we know it today is undoubtedly the child of social media, and as long as we continue to flock to social to sell our brands, like a whale shark needs a minnow to nibble at its' itchy bits, we will need influencers. As the industry grows and becomes a larger part of the regulated mix of advertising channels, through the sheer amount of spend and need for measurement and accountability it will become a more nuanced place to strategically allocate budget to reach your customers.
For now, it's still more caveat emptor than carpe diem when it come to who you work with. Do your own homework on influencers and if you can talk to other brands they have worked with, make sure they understand your offering and its unique selling point and that you have resonance with the way they create content. As always, the answers to who you work with and why it matters can be found in your values, your digital strategy and your KPIs.
Share this page