Introduction
Just as customers aren't tied to a bricks and mortar transaction with myriad online shopping options, retailers and service providers are no longer tied to their premises or office. Now more than ever in a post COVID world, there is a need to offer contactless, cashless payments to your customers no matter where you do business.
Technology is driving the mobility of payment gateways in line with the need of customers to have commerce come to them. Smartphones have become a default payment gateway with extra security measures now built in to most models. 92% of Australians own and use smartphones, which are becoming the ubiquitous tool for consumers for everything from research to payment. Along with external devices to swipe or tap, phones themselves are becoming portable cash machines with Apple, Samsung and Android all introducing mobile wallets into their suite of products.
The key to choosing a suitable mobile payment gateway is understanding the needs for your business and your customers, and the relationship the service you choose has with your existing systems, especially inventory, website store, bank and Point of Sale (POS).
Why use mobile processing?
Mobile credit card processing may be a good fit for you if your business is mobile or doesn't operate out of a traditional brick-and-mortar location, such as a food truck or market stall. It can also be a good option if you're opening a new business and want to start flexibly and small, with the capacity to scale up options of most systems.
This is where a mobile credit card processor that doesn't charge fees and only charges processing costs can be a good option. It may also be a good processing solution for you if you typically accept cash or do most of your billing via invoicing and occasionally need to accept credit cards.
Here are some of the other reasons to choose mobile credit card processing:
Less expensive upfront costs if you already have a phone or tablet. Most processors provide you with a free card reader when you set up your account or will give you a processing credit as an offset. Some processors don't require you to use any additional hardware to securely process transactions; all you need is the app and the technology already built in to your device.
You can accept credit cards wherever you are. This capability makes mobile credit card processing ideal for service professionals who work in the field or if you're a provider who attends trade shows, consumer shows or local farmer's markets since you can accept credit cards as long as you have Wi-Fi or 3/4G service on your mobile phone.
You want to add additional checkout options. You can mobilise your sales team with card readers and phones or tablets to expedite the checkout process for your customers as a less expensive alternative to wireless credit card readers.
It's minimal and cool. Instead of a bulky cash register and point of sale system, you can conduct your transactions entirely on your phone using an app and a swiper and then even email or SMS the receipt. Planet friendly, efficiency friendly.
Technology options
One of the chief appeals of mobile credit card processing is that it requires very little equipment, which makes it a very cost-effective option. Standard credit card processors require you to purchase a terminal or point-of-sale system to begin processing which can be very costly. To process cards on a mobile platform, all you need at the bare minimum is a phone or tablet with 3G or 4G or internet service.
While a lot of the processors offer free swipers, they are not necessary to accept mobile credit card payments. Some processors offer hardware-free solutions, and all processors enable you to manually key-in card information if you don't have a swiper.
Apps and payment gateways
Unlike traditional credit card processing, in order to process through your phone, you use a payment gateway. Most mobile processors include a gateway with the mobile app. Some processors' apps include extra features for the tablet versions of their products, including the ability to scan barcodes.
Credit card readers
In order to get the best rates you need a card reader. Most processors offer the first basic credit card swiper for free. Some may have an initial cost and offer a rebate or a processing credit that reimburse you for that cost, purchasing additional units costs extra. Costs for basic swipers range from $10 to $60 and upwards for EMV-capable card readers.
Compatible operating systems and phones
The most important piece of equipment that you need to begin mobile processing is a phone or tablet. The majority of the processors work with both Apple and Android and have lists of compatible devices on their websites.
Accessories and extra features
Mobile processors include a variety of extra features with their services. The most popular features are capturing signatures directly on the screen and emailing customers their receipts. Other extra features that can help your small business include analytics programs that give you insight into your sales data, marketing tools to help you promote your business and scheduling apps that help service-oriented businesses set appointments with their customers.
Choosing a mobile payment provider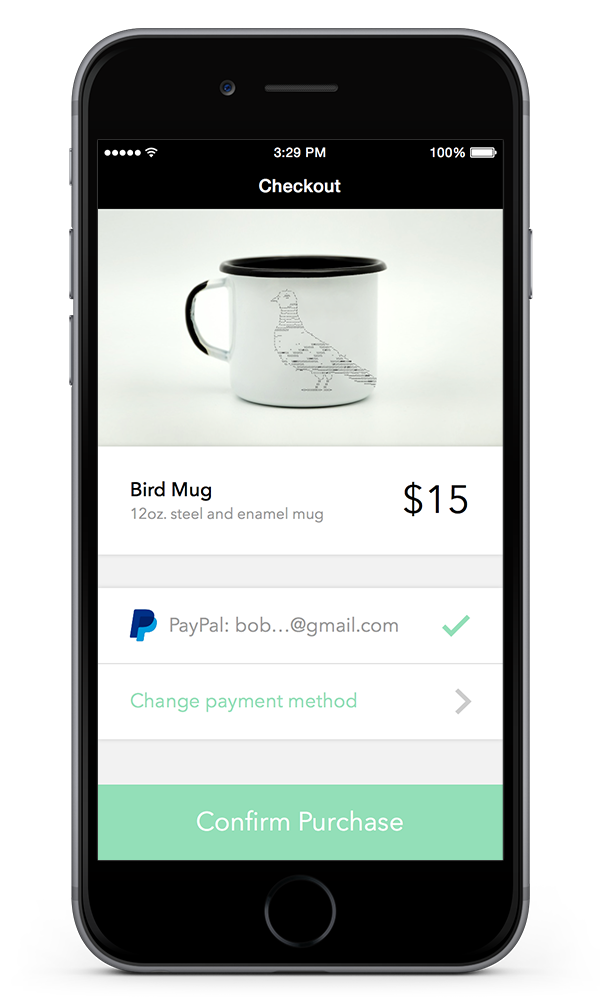 One of the benefits of mobile credit card processing is that most of the processors set you up under their master merchant accounts, which means that it's easier to apply for an account and most applications are approved more quickly than if you set up a merchant account with a bank or credit union. No matter what type of processor you choose, it's important to understand the offering and thoroughly read the contract. Here are some tips to help you choose:

Evaluate customer service
Even though you can find most of the information that you need online when you're deciding which mobile credit card processor you want to work with, consider calling and emailing the company to get a feel for the customer service that you can expect to receive once you sign up with the company. Do you want to be able to reach customer support on weekends or after business hours or is a company that provides email or phone support sufficient?
Read the contract
Although mobile processing contracts tend to be shorter and more straightforward than standard credit card processing contracts, especially services that are pay-as-you-go, it's still important to read through the entire contract before you sign up with a service. Understand your obligations, the processing costs and all of the fees that you are expected to pay, and the procedure to follow should you decide to cancel the service.
Make your decision
After you've decided which mobile credit card processor you want to work with, the application process varies depending on the processor you choose. You can install the app on your phone and provide the information that it requires, fill out the online application, or complete an application over the phone. Some companies send out the card reader after your application is approved and some send it after you pay the first monthly fee.
Mobile payment options
Contactless cards and digital wallets are both forms of contactless payments. Contactless cards use Mastercard PayPass or Visa payWave technology to make payments for products and services without the need to swipe your card or provide a PIN or signature.
Digital wallets replace your physical bank cards altogether with an app on your smartphone which stores all your banking details.
Both forms of contactless payments employ the same NFC technology and digital wallets are all encrypted with the same type of fraud detection and payment protection used on debit and credit cards.
An added benefit of a digital wallet is you can make purchases online without entering your card details every time – you can simply log into your digital wallet account and buy things with a single password.
The following companies give you an idea about what is currently available in Australia to get you transacting anywhere anytime. This is by no means an exhaustive list, more an indicative selection of brands and services including banks, payment gateways, technology driven services and payment aggregators.Braintree – owned by PayPal and subsequently highly integrated with retail. Accepts Apple Pay, costs for retailers is 1.75% and .30 per transaction.
Square – Founded by Twitter founder Jack Dorsey, Square is an integrated Point of Sale system that runs on iOS and Android and includes a small portable card reader that jacks into your mobile device to swipe cards through. originally designed for small and mobile retail, Square also offers larger hardware for brick and mortar premises.
ANZ Fast Pay - Available via the ANZ bank, this is their mobile baking product. It includes iOS and Android compatible apps and a card reader that works with your mobile device as a swiper. ANZ charges 2.3% on credit card transactions and .30c on debit cards.
Quest Pocket Pay - Quest is an Australian producer of EFTPOS systems, Pocket Pay is their mobile offering that operates through a cloud based app to enable mobile payments on a small handheld swiper device. Can be used as a contactless device and charges a monthly base rate of $25.
Mint Payments – similar to Quest, this is another terminal driven cloud based solution compatible with Android and iOS. Costs are $29.95 per month, 1.75% transaction fee and .30c EFTPOS fees.
Stripe - Stripe offers technology-driven payment solutions for online businesses looking to offer a range of payment options to their customers. Stripe's offerings suit businesses looking to accept payments from a smartphone app, those wanting to customise their own custom checkout flow and those wanting to optimise for a global payment setup. Stripe charges 1.75% + 30 cents for domestic cards; 2.9% + 30 cents for international cards; 2.9% + 30 cents for Alipay and WeChat Pay and $25 for a disputed payment, such as a chargeback, unless the bank resolves the dispute in your favour.
Mobile wallets
In the end, mobile wallets may in fact simplify all mobile transactions as consumer mobile technology becomes more and more ubiquitous and integrated.
Mobile wallets are part of this trend, and while the basic capacity to pay using your mobile phone has been available in countries like Japan and Korea for a number of years on certain types of phones, this is now being built in to Apple and Android handsets and products, with strong security measures and sophisticated functionality.
Big banks in Australia are embracing the consumer driven desire for a single point of transaction, and CommBank has already not only incorporated a mobile wallet feature in their app, they also have the capacity to stores loyalty cards.
The lag in use or uptake is going to come from the retail side, where the lack of Near Field Communication (NFC) point of sale terminals to interface with the phone or watch may limit the capacity to do these transactions.
Other concerns are reports of fraud through the lack of secondary verification of the credit cards once scanned into phones. Given the newness of these services, these issues are teething problems rather than significant barriers to entry, and once the drivers of demand kick in, and the technology evolves and is refined, they will be the rule not the exception. To get a flavour for the digital mobile payment future, here's an overview of the three main players:
Apple Pay is a proprietary iOS-based mobile payment system that uses your phone to make payments on NFC-enabled credit card terminals at the point-of-sale (POS). To get started, you enter or scan your credit card information into Apple's Passbook app on an iPhone 6/6s or 6/6s Plus. In a store that accepts Apple Pay, you wave or tap your iPhone over or on an NFC-enabled POS terminal, then approve the payment via fingerprint on the iPhone.
With an Apple Watch, you just wave your Watch over the NFC-enabled terminal. Apple Pay will also work on mobile commerce sites and commerce apps accessed via iOS 8.x devices. If you have an older iPhone such as a 5/5s that doesn't have the wallet app on it, if paired with your Apple Watch you can use that to scan and complete the transaction.
Samsung Pay/Loop Pay is Samsung's answer to Apple Pay, Samsung acquired the LoopPay mobile-payment platform which is now called Samsung Pay to allow for mobile payments at just about any POS system. You enter your credit card details into the Samsung Pay app in a method similar to Apple Pay/Passport. At retail, you swipe up from the Galaxy S6's bezel to access the Samsung Pay app, choose the desired debit or credit card, tap the phone to the NFC point-of-sale terminal, then authenticate the transaction via the Galaxy S6's fingerprint sensor.
In addition to NFC tap-and-pay, Samsung Pay will also work on standard magnetic-stripe POS retail terminals. You just open the Samsung Pay app, select the debit or credit card, then hold your phone against the POS terminal where you would normally slide your card; the transaction then continues as if you had slid a card through. This capacity is Samsung's point of difference and may give the Loop Pay system a market lead in terms of opening up wider access with less changes required by retailers to accept payments.
Android Pay is an NFC/fingerprint system similar to Apple Pay that stores your credit card info to let you make quick payments at supported POS systems as well as within certain apps. Android Pay credit card information is stored on your mobile device and accessed by store-specific apps. When you want to buy something in a supported store, you simply tap your device to pay.
Android Pay's ability to work across any Android device gives it a big advantage over both Apple Pay and Samsung Pay, both of which are currently limited to the iPhone 6 and Samsung Galaxy S6, respectively. Android lists a large suite of retailers in the US who have signed on to accept the Android Pay service, and no doubt as the giants in retail test and tweak the technology, access will be widened to smaller players.